"Silence is the language Love speaks, everything else is a bad translation.."
— RUMI
How would it be to come home in yourself?
Do you recognize yourself in one or many of the below statements?
I'm often worried about the future
I can always do 'better'
It it difficult for me to set, or even feel, boundaries
I distract myself with social media & (comfort) food
I'm afraid I'm not funny/smart/pretty/talented/special/… enough
I experience love & joy when I'm relating to others, but I have difficulties being alone
I long for inner rest, spaciousness and clarity
What is you didn't have to show up in your 'best version', but if you'd realise your current version is already more than good enough? How would it be to choose to eliminate all external stimuli and simply sink into the simplicity of this moment, right here, right now?
External silence invites internal silence. Minimizing all external triggers provides us with the opportunity to be present with what is really alive within our system. Silence teaches us to observe the mind for what it truly is: a noisy roommate with the best intentions..
Our kind mind wants the very best for us, but in Western society we have so deeply identified and melted together with our thoughts that we believe to be our minds. Periods of contemplative silence take us by the hand and reveal that 'the mind' is but a tiny fragment of our entire human 'being'. Silence invites us to zoom out, to take a step back from the 'story' of our life and observe it from a more spacious perfective, herein lies the journey to inner freedom.
Breathe in.
Breathe out.
Do you smell the flowers?
Do you feel the raindrops gently falling on your skin?
Our collective conditioning to perform and our goal oriented mindset is so strong we daily burden ourselves with an enormous pressure. Silence doesn't judge, it welcomes everything in an indescribable great field of limitless awareness.
Sounds like a breath of air.. how does that translate to real time events?
It's actually very simple. During day, weekend or week retreats we don't use words to communicate to one another. We invite you to be present with yourself and create an environment in which you can easily sink into silence without external distractions. This is why fully surrender ourselves to 'mauna' (noble silence) in every action; we avoid eye-contact, discourage to read or play music, we don't write notes to one another etc. We'll also struggle and feel confronted with ourselves on retreat, we crave the distraction because it can be very shocking to be present with our own chaotic mind, which is why it is such a help to experience silence in a held and guided environment. The programm and the group will give you the support you need to sink deeper and deeper into yourself.
'A week of silence? Surrenderment, love, devotion. It was an experience out of time and space'
~ Laura
'Chris has a deep and flexible way of teaching. You can feel her depth, clear speech and spontaneity. Very inspiring all over.'
~ Isabelle
'it was a soft arrival,a gentle slowing down and the careful guidance allowed me to spread my wings full of trust.'
~ Rinkse
'I loved the active meditations and moment of inspiration! It really helped me to get different tools to meditate. It was fascinating, well held, beautiful. Listen. Be.'
~ Lisanne
'Good vibe! Good answers! Strong woman! just love!'
~ Hadi
'I stood outside and saw the birds in the trees, it made me cry and laugh at the same time. so simple. So much ease and love.'
~ Maren
'Chris is one of the most passionate people I have ever met! Everything she does is with so much love & passion… Whether singing, teaching, meditating… Very inspiring.'
~ Elisa
"A day of silence can be a pilgrimage in itself."
— HAFIZ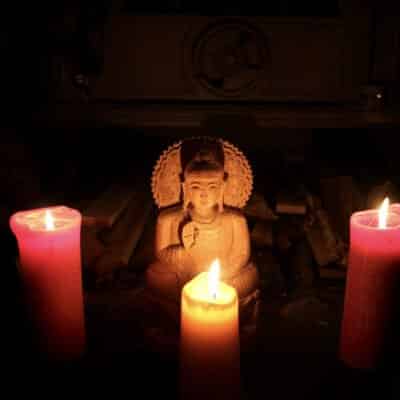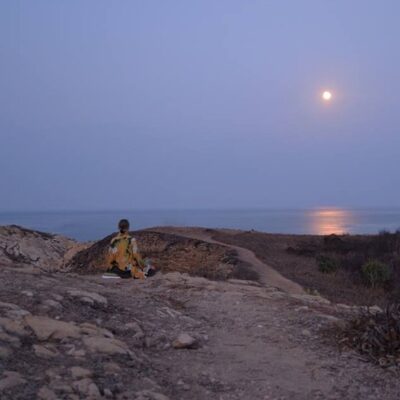 How do I know if silence is for me? Maybe I'm not ready yet?
When you're curious to see what silence can offer you (an indication can be that you've read this page already up to here), you're probably safe to say that silence is for you indeed. A short anecdote:
During many of the plenty retreats I joined or facilitated, sooner or later the question rises from one of the participants: 'Is it possible that meditation works for everyone, except me?'
My spiritual teacher, Sahajananda, always giggles at that question like a child would, and jokingly answers something along the lines of:
'Hmmm, yes, surely, through your written note I can see how you're right.. Meditation in perfectly suitable for all 89 other people in this room, but for you.. no..'
To continue on a more serious tone of voice:
'Of course meditation is also for you. The mind encounters obstacles and struggles staying present with itself, but through gentle awareness and honest witnessing you can unveil the spaciousness you're longing for so deeply. For some that happens in mere hours, for others after multiple retreats, but during every meditation you are deconditioning the spinning wheel of the mind, you are creating space in your subconscious habits. Yes, meditation is also for you.'
I believe silence is good for me, but it really scares me..
I fully understand, we've all been there. For nearly everyone the idea to enter a period of complete silence is very scary, we feel we've 'on our own', and what if we don't like ourselves all that much..? You might find both ends as true.. at moments you'll be frustrated with yourself.. to then suddenly - for no reason - sink into a blissful void you never even knew existed. On the one hand silence asks you to be responsible for your own process, on the other hand there is always an experienced team of staff ready to assist you where needed. Together we carry the field in which your process is safe to unfold.
So, no eye-contact? What about touch?
To fully support everyone's proces and safety, we create a space without contact. No eye-contact, no physical contact, no written contact, no smoke signals etc.. In daily life we rarely (read: never) take the time to fully be with ourselves and stay there. These retreats are an open invitation to do precisely that, in intimate awareness, for you and your fellow travellers.
What about reading or writing?
We strongly discourage you to read (or make / listen to music), these are all external stimuli, which is why they're such a sweet distraction ;-).
We do recommend you to write, as long as you write about your direct experience without going too much into stories or writing your biography or next poetry bundle!
What if I have questions during the retreat?
We offer the option to write practical notes to the team-members at any moment, they will reply your practical question as soons as possible. During multiple day retreats there is also the opportunity to send in questions for the 'Q&I' session: Questions & Inspiration. You will then receive a verbal answer / insight on this topic when deemed relevant for the entire group. Why do we do it that way?
Because in reality your 'personal' question nearly always applies to others as well, through answering individual questions in front of the group is a very helpful tool to connect to you process and understand it deeper.
Do we go completely offline? What about emergencies?
For emergencies we have a special phone number which can be called at all times and will be checked twice a day by the team. Other than that we do indeed go completely offline and even encourage you to hand in your phone at the beginning of the retreat.

Do I have to participate in every session?
No, you don't. We highly invite you to trust that we've carefully created the program for your optimal process, however, if you feel it is genuinely needed to rest or not to participate for another reason, we always invite you to listen to your intuition. - let yourself be guided by the silence from within.
What age are the participants?
Our activities are designed for all ages. In reality we find that we attract an audience between approximately 20 and 50 years of age.
What about food and accomodation?
The accommodation varies per occasion. Usually we are equipped with a team of experienced chefs who spoil us with highly nutritious, vegetarian and organic deliciousness! Take a look at the event itself for the specific details.  
What are the costs?
Most Silence events are Dana based. That means that you pay the cost price + a donation. This varies greatly per event. For instance during the PLAY! Silent Retreats the costs usually lay around 300,- euros and the suggestion donation is offered on a sliding scale between 250,- and 450,- euros.
*Dana = generosity. Dana translates as generosity, a gift from the heart, deriving from Buddhism as an active practice. The teachings are given free of costs, however, those providing the teachings also need to live, prepare and dedicate their lives to these teachings in order to transmit them from a place of transparency and integrity.
Dana is a gift from the heart, meeting everyone's individual needs and circumstances. Through donating we ensure that the teachings remain alive and can be passed on to future participants or even future generations. Therefor it is said that is is not 'pay it back' but rather 'pay it forward'.
The donation is given as a sign of appreciation for the teachings and contribute to the facilitator who might be fully dependent on these offerings.
Why Dana?
Practicing Dana is a joyeus act for the giver and the receiver, it is an expression of love and appreciation.
It allows for people of all financial dispositions to participate and give from their truth. Those who can offer a bigger donation, do so, other who can not, give less, but their generosity is the same.
This way the entry price is low and the complete amount can be paid in phases.
Separating the costs creates transparency and trust.
Practicing Dana is a very hands on practice in 'letting go'. The practice of surrenderment and that of generosity spring from the same source within.

Example Program 7-day Silence Retreat:
07:00 - 08:30 Yoga & Meditation
08:30 - 10:30 Breakfast
10:30 - 11:30 Talk / Inspiration Session
11:30 - 13:00 Morning Meditation
13:00 - 14:00 Lunch
14:00 - 16:00 Break
16:00 - 18:00 Afternoon Program (various activities or silent meditation)
18:00 - 19:30 Diner
19:30 - 21:30 Questions & Insight + Evening Meditation

Example Program 1-day Singing Silence:
09:45 - 10:00 Arrival
10:00 - 10:30 Short meditation and sharing circle
10.30 - 13:00 Entering the silence with a guided meditation
13:00 - 14:30 Silent Lunch
14:30 - 17:30 Sounding & singing from silence
17:30 - 18:30 Soup in Silence
18:30 - 19:00 Closing Ceremony
19:00 - 19:30 Jamming / Goodbyes
Is your question not yet answered?
Please contact me through the form below and I'll do my best to answer your inquiry as soon as possible.
More info? Other questions? Please write us!
"*" geeft vereiste velden aan